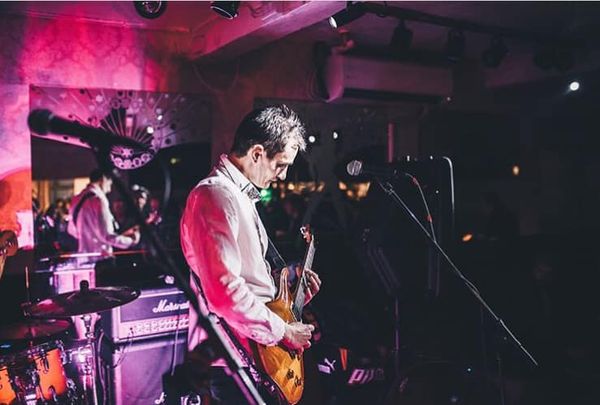 Questions by Explore Buxton for their regular Buxton Bands Feature
1. What's the line up?

I'm lucky enough to have played in a variety of musical combos over the years but
as it`s just me being interviewed the lineup currently consists of me. I did split up
over musical differences a few years ago but I made up and got back together for a
reunion tour in 2013 (there may have been some financial persuasion involved as
well) and it's been smooth sailing ever since.

2. Who's the sexiest?

Again I'd have to go with me. Although I've not always looked this sexy and in
comparison to other other human beings or even animals I'm not sure how I'd grade
my sexiness but in terms of my perception of my own sexiness I'd say this is
definitely the sexiest I've ever been.

3. When and how did the band get together?

My Mum wanted me to learn an
instrument so I started having classical guitar lessons with my first teacher and now
good friend Peter Wrieden when I was 11, although secretly all I wanted to do was
learn Ozzy Osbourne and Metallica songs. I turned up to my lesson one day with an
electric guitar that my Dad bought me for my birthday instead of my classical guitar
and Peter said, "Ah! Okay, so it's like that is it". I had lessons with Peter for about
seven years and having a classical guitar teacher gave me a good grounding in
music theory and he showed me a lot of finger picking techniques.
When I first got into guitar I practised a lot, I'd play for 5-6 hours after school and for
8-12 hours on weekends. It became a bit of an obsession, although I enjoyed
learning songs what I was really interested in was improvisation and writing my own
songs, by the time I was 14 I was playing gigs and had decided my goal in life was to
go to music college and become a professional guitarist, previous to that I'd wanted
to be a herpetologist!
I ended up moving to Guildford and studying at The Academy of Contemporary
Music for 4 years where I was taught by some great lecturers that included Guthrie
Govan, Dave Kilminster, Bill Bruford, Pete Friesen, Giorgio Serci and Eric Roche. I
had a lot of fun, made a lot of good friends and learnt a lot in the process.

4. What's your sound?

I try to be versatile so I can cover as many musical scenarios as possible in case
they rear their ugly yet beautiful heads at any point, I play guitars of all shapes and
sizes including, classical, acoustic, electric, bass, ukulele, cigar box and a little bit of
flamenco but I'd say my natural playing style is a heavy handed blues funk rock
guitarist, I use heavy strings, thick plectrums and hit the strings hard!
A lot of my lead playing is based around mixing the pentatonic, blues scale, the
Dorian mode and scales I've stolen from flamenco guitar such as the exotic sounding
harmonic minor and Phrygian dominant modes but more often than not I'll forget all
that stuff and play whatever feels right which usually involves seeing if I can bend the
B-string up off the top of the fretboard and still incorporate it into a tasteful sounding
guitar solo, the answer to which has so far been...no, but it won't stop me from from
trying.

Some of my favourite rhythm playing is what Nile Rodgers would call "chucking" it's a
much copied funk guitar technique of his that involves strumming constant
semi-quavers with your picking hand and chopping between chords and muted
strings with your fretting hand. It's a great way to liven up a chord progression and it
also seems to make people dance which is usually a good thing.

5. Smallest gig so far?

In terms of surface area I've played lots of gigs in intimate settings, in people's front
rooms, kitchens, bathrooms etc but I wouldn't class them as "small", they were all
enjoyable experiences. I have however played gigs in some very large venues to
some very small audiences and by small audiences I mean, the only people who
were there were either being paid to be there or were being held there against their
own will.

6. Largest gig so far?

I'd have to go with playing at Y-Not Festival with Octofunk last year, it was the
fulfilment of a musical ambition for me, I'd always wanted to do some festival gigs
and I'd missed the chance to play at Glastonbury with Ryan (Octofunk band leader)
in 2010 because I was too ill! I'd rehearsed with the band and was ready to go but I
got a really bad infection and had to stay at home. So when he asked me to play for
Octofunk at Y-Not, Tramlines and some other festival gigs last summer I was proper
grateful!We were also provided with a never ending supply of tea, I've never had the chance
to fill out my own rider before but it probably would just consist of a never ending
supply of tea anyway. Octofunk live at Y-Not Festival 2016

The largest gig I did off my own back was "STRUNG OUT: A History Of Rock Guitar"
at the Pavilion Arts Centre for the Buxton Fringe Festival in 2014 with Pete
Proudlove on bass and Matt Ryan on drums, it was a mixture of spoken word and
live music that charted the development of rock guitar playing from the Delta Blues
right up to modern day Prog Metal bands, I put a lot of work into it and up until about
an hour before the performance started I'd only sold about 10 tickets! It was a nice
surprise at the last minute when they told me I'd actually sold out (oversold in fact!)
and they were turning people away at the door, I was very grateful so many folks
came and showed their support.

7. Weirdest moment?
There's a number to choose from here. I've played with an Elvis Tribute band in a
Chinese Restaurant in Stalybridge, with a death metal band at a hotel in Bridlington
where a seagull soiled my fish and chips, supported a Maroon 5 tribute act in
Winsford with band who had a clown on the stage, had a gig interrupted half way
through whilst an audience member was stripped naked, covered in whip cream and
whipped by a provocative lady dressed as a police officer.
Clowning around in Winsford!

But I think one of the weirdest but coolest moments was being one of the first bands
to play on the Pump House Roof, I did it as The Part Baked Collective with Matt
Ryan on drums, Ben Squires on bass and Bryn Layton on percussion. It was weird
because growing up all the bands round here used say we should hold a gig up
there and I actually got to do it. It was a really sunny day, a lot of people were
watching and sunbathing on The Slopes, we ended up playing for nearly 3 hours.
On the Pump House Roof

I also played "My Sharona" with Bastille at Woody the drummer's wedding, Dan
Smith was reading the words off a bit of paper but the font was too small and he
couldn't see them and he kept looking at me for cues for when to come in, it wasn't
the tightest of performances to be honest haha! There is video evidence of this
taking place but luckily I'm not allowed to post it on the internet.

8. Are you for hire?

Yes! I'm available for all your guitar playing needs I'm a full time guitar teacher and
performer, I play in a number of bands in a variety of styles that could be suitable
for a number of occasions such as weddings, birthdays or the celebration of your
car passing it's MOT.

I also offer one to one or group guitar lessons to anyone of any ability, and can help
with advanced guitar techniques, music theory, songwriting, knowledge of the
fretboard, many different genres of music or if you just want to be able to knock out
"Wonderwall" down at an open mic night I can show you how to do that as well.
I also do remote sessions from my home studio, send me your songs and I'll add
gnarly guitar tracks to them all via the magic of the internet!
 
9. Website?
You're already here! :)